Asa and Jane Hickman's Family Bible Original Scans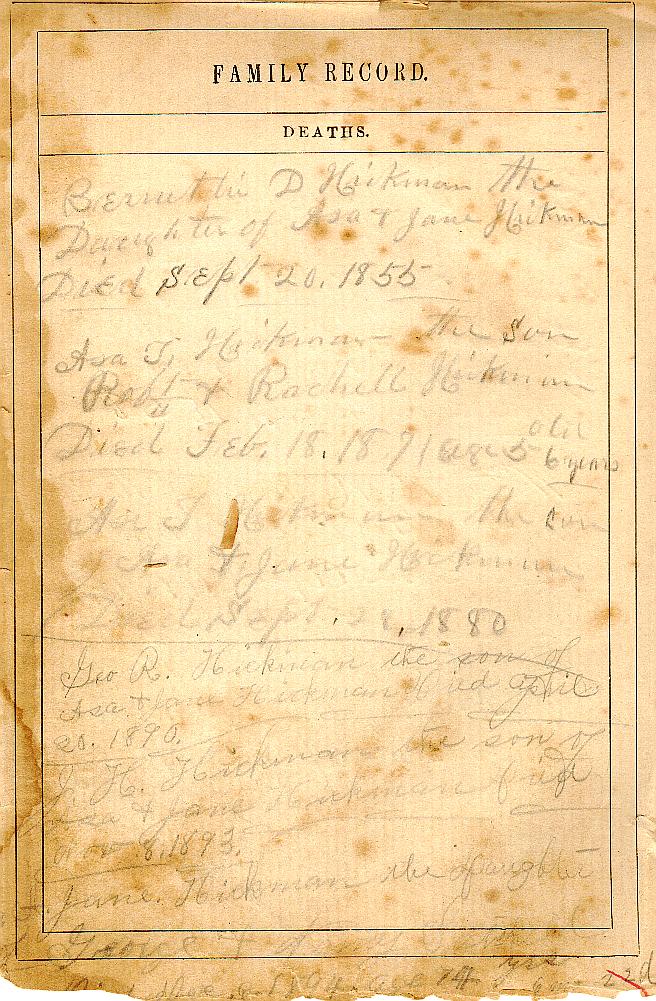 Record of Asa and Jane's Bible accounts of deaths. Looks like the original recorder stopped and my g-grandmother Mary Jane continued the entries.
Of particualar interest on this page is the Childs death Bernetti D. Hickman. She died as a child and if you examine the Births page the next born girl child was named Bernetti J. Hickman. They seemed to be very determined to name a child Bernetti possibly after somone on Janes side. My hypothesis is after Jane's grandmother because I do not have any Bernettis in my research on the Hickman side . Jane was a Satchell, d/o George and Nancy Satchell, which I have not had any luck researching these 2 people at all. Bernetti D. buried at Horntown Baptist Cemetary in Wattsville
Next of Particular interest is the Record of Asa Sr.s Death, It says he was the son of Robert and Rachell Hickman. I have blown up this record in Scan 7 to examine the Robt. abbreviation. From the larger Scan of this record...It appears to me that the handwriting depicts Robt. and just under the "t" it looks like Jane tried to put the 2nd ...ie "II". Would you look at the scan and see if you agree with my deduction?? Asa T. and Jane are buried at Horntown Baptist Cemetary in Wattsville.
It looks like the last entry Jane entered was the son Asa T. Hickman's death in 1880. Asa T. jr is buried at Horntown Baptist Cemetary in Wattsville. They all were buried originally on the Hickman/Johnson Farm in what used to be Cordtown. About a 1.5 miles north of Rays' Shanty in Wattsville. But all were moved Sometime in the 70's . I am not sure who moved the graves.
Last entry on thsi page is Jane's Death recorded by Great Grandmother. She says that Jane was the daughter of George and Nancy Satchell. I believe that this family was from the Parksley/ Greenbush area. But I have have not had any luck with this couple.
This thumbnail page created with CompuPic.