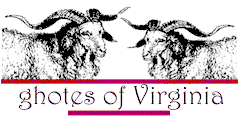 The Silver Spoon Mystery, or...
---
Who was Ephraim Outten?
by Pierce Eichelberger
Years ago I was given a silver spoon. It was one of those old ones we call "coin silver." On the handle was a monogram. "PLS" with the "P" and the "L" slightly above the "S". Other monograms written like this were apparently meant to be read with an "and"—as in "P and L S" and could stand for Paul and Laura Smith, for example. I have never found a "P and L S" who might have owned the spoon. On the back of the spoon the maker's mark is easily readable as "E Outten."
At the time, Gordon Lohr was still living on the Shore. He had an antique shop and was (and is) a recognized authority on antiques. I showed him the spoon which he stated he felt had been made in Accomac. But who was E. Outten?
I consulted the Whitelaw Books Virginia's Eastern Shore, by Ralph T. Whitelaw, and on page 836 learned that Susannah Leatherbury had inherited one hundred twenty-four acres on the south side of Onancock Creek. She "married Ephraim Outten and in 1811 they sold her inheritance..." This property later became known as "Meadville" and is now the home of Henry Custis.
Accomack County Marriage Bonds include the marriage of an Ephraim Outten to Susanna Leatherbury on December 8, 1803. The 1810 Census for Accomack County lists Ephraim Outten as head of a household with one male in the 26 to 45 age group, one female in the 18 to 25 age group, and two males under 10 years of age. Neither the 1800 nor the 1820 censuses had a listing for Ephraim Outten.
The Eastern Shore Public Library in Accomac has a copy of Virginia Postmasters and Post Offices, 1789-1832, by Edith F. Axelson in which Ephraim Outten is listed as the postmaster of Accomac from January 1816 to July of 1816. While at the Library I checked to see if "E. Outten" was a recognized silversmith. The Library has a book entitled The Directory of American Silver, Pewter, and Silverplate, by Ralph M. and Terry Kovel. Listed is Ephraim Outten, a silversmith in Maysville, Kentucky from about 1816 to 1825. The name and dates seemed to fit, but was this just a coincidence? I felt that I needed to know more about Ephraim Outten.
A recent visit by my brother Ben Eichelberger to the Mason County Museum in Maysville, Kentucky seems to bring everything together. Staff at the Museum were familiar with silvermaker Ephraim Outten. He is listed in a book that they have Silversmiths of Kentucky 1785-1900, by Marquis Bloultinghouse. The write-up on Outten states that he was a native of Virginia. His widow is listed as Susan and his father, also in the Maysville area, was named Isaac. It would seem that Ephraim Outten was a practicing silversmith on the Eastern Shore from perhaps as early as 1803 until 1816. It may be that business locally was insufficient, and that after trying to supplement his income as a postmaster, Ephraim Outten decided to move to what he considered a more lucrative area. It would be interesting to know if there is more of his work still in the area.
Pierce Eichelberger
npe@esva.net
---
If you have information to add to this page, or if you would like to prepare an essay on this topic to be displayed here, please contact Barbara
---
Return to the top of this page
Return to the Family Stories page
Return to the GHOTES home page
---
Page accesses to date:
---
---