William Blake
From Ghote Silver F. Smith
---
Blakes, Owens and Milmans of The Eastern Shore
by Silver F. Smith
Sixth great grandfather William Blake, Sr., married great grandmother Jane Consitt in Hovingham Parish, North Riding Yorkshire, England on 25 May 1658. William's name was recorded as "Blaike."
We do not yet have a record of William Blake, Jr.'s birth. We do not know if he was born in England or on the Eastern Shore. Two years old William, Jr. was presented for baptism in Hungars Parish, Northampton County, Va., on 7 July 1661 by his parents William and Jane "Blague."
William Blake, Sr. was granted a patent for 300 acres of land on the south side of Messango Creek in Whitelaw's area A129 in 1669 for "transporting" 6 people into Virginia. William and his wife Jane sold those 300 acres two years later (1671) and moved a bit to the northeast. William was granted another patent in 1673 for 300 acres in Whitelaw's area A173 for "transporting" another 6 people into Virginia. William and Jane purchased an additional 332 ½ acres in A174. They purchased 100 acres from William Turville of Somerset Co., Md., in 1676 and 232 ½ acres from Charles Ratcliffe also of Somerset Co., in 1678. William Blake, Sr., deeded the 232 ½ acres in equal parts to his two oldest sons William, Jr. and John Blake in 1688.
William Blake, Sr. and his wife Jane settled down in northeast Accomack County and raised a family of 9 children: William, Jr., John, Elias, Daniel, Joseph, Mary, Sarah, Rebecka and Isabella. Both William and Jane died in Accomack County, Virginia, he in 1693 and she in 1696.
There was an interesting incident in which our Blakes were involved. They had as one of their neighbors, Capt. John Wallop, who had a number of servants. One of those servants, Ellinor Hew, died after being beaten allegedly at the direction of Mrs. Wallop by two other servants, William Dixson and Franck, a mulatto boy. A jury of inquest was convened in July of 1686 after Ellinor's death in June. William Blake, Sr., William Blake, Jr. and Jonathan Owen, William, Sr.'s son-in-law and husband of Mary Blake served on the jury. John Blake, who was at hand when Ellinor died, gave a deposition in court. The jury found that there was sufficient evidence of murder to hold the two servants William Dixson and Franck over for trial in James City. Accomack County lacked the authority to try a murder case. The results of that trial are unknown.
William Blake, Jr., born in 1659, died in Accomack County about 1703 without issue. The land that William, Jr. inherited from his father reverted to John Blake. As John's other brothers died, he claimed their land under the reversion clause in their father's will. This created friction and law suits among several members of the Blake family as some of John's brothers had married and had heirs of their own.
John Blake married Sarah Ratcliff on 5 November 1692 and they had at least two children: Arcadia, who married John Turvil (They had a son John.) and Rebecca Blake who married and had a daughter Sarah Wilson. John also had a son named Charles Blake (alias Price), apparently an adopted son, who married Mary, a daughter of Charles Ratcliffe, and had a son John Blake. John bequeathed 100 acres on Chincoteague Island to his adopted grandson, John Blake. How or when he came by the 100 acres is unknown. John Blake (Sr.), who was born in 1663 according to a deposition that he gave in court, died in 1726. His death and will triggered a family law suit in 1728.
Daniel Blake disappeared from the records and died sometime after 1695. No records could be found of his family. Apparently he had none.
Joseph Blake, Sr. married Ann Morris and the two of them had four children: Joseph, Jr., Dennis, Naomi and Rachell. Joseph Blake, Sr. died in Accomack Co., in 1703. Ann, his widow appears to have married a cousin as she had two young children named Gilburd (Gilbert?) and John Morris, who she left to the care of her son Joseph, Jr., at her death in 1724. Ann also mentioned an Elizabeth Morris without specifying any relationship. Joseph Blake, Jr., married Rebecca Unknown and they had two children, one of which was Charles. The other child was born posthumously. Joseph, Jr. died in 1731. Dennis Blake married Frances Pitt and they had 6 children before Dennis died in 1760: Jebez who died about 1765, Joseph who married Spohia Staton and died about 1782, John Blake who died in November of 1774, Slocomb, Ann Blake who married a Welborn and Sarah. Naomi, daughter of Joseph Blake, Sr., married Unknown Tull. Little is known about Rachell, Joseph, Sr.'s other daughter.
Elias Blake, Sr., son of William, Sr., married Bridget Price and they had 4 children: Elias, Jr., William, Charles and Jane. Elias Blake, Sr. died in 1709. Elias Blake, Jr. Married Bridget Unknown and they had a son William who married Sarah Unknown. William and Sarah had a son named William. Elias, Jr. Died in 1786. William Blake, son of Elias, Sr., married Sarah Matthews. Charles Blake, son of Elias, Sr., married Hannah Matthews. We have no further information on Jane, daughter of Elias, Sr.
Sarah, daughter of William Blake, Sr. married a man named Willis. We have no further information on Rebecka and Isabella Blake, daughters of William Blake, Sr.
Mary Blake, daughter of William Blake, Sr. married Jonathan Owen by 1685 and they had 7 children: Timothy, Jonathan, Samuel, Peter, Edie, Elizabeth and Ann. Jonathan Owen, Sr. arrived on the Eastern Shore in 1669 on the ship "John and William" commanded by Capt. Daniel Pensax. Jonathan had an indenture to serve 4 years in Virginia. His indenture was signed by John Brumskill. Jonathan Owen, Sr. died in Accomack County in 1717. Timothy Owen married Patience Unknown and they had a daughter Mary before Timothy died in 1720. Jonathan Owen, Jr. married Rachel Unknown and they had five children: Peter, Esther, Mary, Sally and an unknown daughter. Jonathan, Jr. died in 1658 and Rachel died in 1666. Jonathan, Jr. left 100 acres on Chincoteague Island to his wife Rachel and then to his son Peter. When and how Jonathan acquired these 100 acres is not known. Jonathan mentioned two grand children: Major Owen, who must have been Peter's son and Isaac Hill who was the son of his unnamed daughter. While it is not known, it is assumed that Major Owen inherited the land on Chincoteague. Peter, son of Jonathan, Jr. married, had a son Major and died on an unknown date. Jonathan, Jr.'s unnamed daughter married a man named Hill, had a son named Isaac. Mary married John Morris who died in 1771. We have no further information on Esther and Sally. Samuel Owen, son of Jonathan, Sr., married Mary Unknown and died intestate in 1774 leaving the administration of his estate to Mary. Peter Owen, son of Jonathan, Sr. married Elizabeth Unknown, had a son Samuel and died intestate in 1760. (Whitelaw contended that this Peter was the son of Jonathan Owen, Jr., but I disagree. His death year is more in line with Jonathan's sibling not his son. In addition, Jonathan Owen, Jr. mentioned a grandson Major Owen in his will but not a Samuel Owen.) Edie Owen, daughter of Jonathan, Sr., married a man named Morris. Elizabeth, daughter of Jonathan, Sr., married a man named Collins. Ann Owen, daughter of Jonathan Owen, Sr., married Nicholas Milman, the son of Thomas and Mary Milman of Dorchester County, Md.
Nicholas Milman and Ann Owen had 7 children: Thomas, Jonathan, Peter, Ephraim, Elizabeth, Mary and Sarah. Nicholas died about August of 1753. This family of Milmans lived on "Wamoes" Branch. Euwamus Branch is now called Bullbegger Creek. The 200 acres owned by the Milman family was in the southeast corner of Whitelaw's area A170. The southeast corner is on what is now known as Hancock Branch west of Highway 13 a bit south of New Church. Thomas Milman apparently married and had a son Michael who was orphaned in 1758. A letter of administration of Thomas Milman's estate was issued in 1762. In 1776, Michael Milman, who had removed to Sussex Co., Pa. (now Del.) deeded 90 acres to Ephraim Milman, who was evidently his uncle. These 90 acres are a very close approximation of the amount of land that Thomas Milman inherited from his father, Nicholas, in 1753. All of the evidence to date points to Michael as being the son of Thomas Milman and grandson of Nicholas. Jonathan and Peter Milman removed to Sussex Co., Pa. (now Del.) These two Milman brothers and their nephew, Michael, began the large and prosperous clan of Milmans in Delaware.
Third great grandfather Michael Milman married Margaret Smith of Sussex County and died in 1782 during the Revolution. Second great grandfather, Jonathan Milman, Sr., orphaned in his first year, had to fight his step father in court for the small (40 acres) piece of land that was left by his father. By 1828, however, grandfather Jonathan Milman, Sr., owned more land in down town Milford, Del., than anybody else. He became known as "Mr. Downtown." The following year he sold his holdings there to the Reverend Trusten P. McColley, the most celebrated Methodist preacher in Delaware's history who had come to do good and did very well. Grandfather Jonathan retired to his farm south of Milford in or near what had been William Penn's Worminghurst Manor, where he died in 1868.
There were other Blakes on the Shore other than the descendants of Wm. Blake, Sr. A Thomas Blake had been on the Shore for many years before he died in 1691. It is possible that he was related to William Blake, Sr., but that has not been established. After Thomas' death, his widow, Patience, abandoned her step son, Thomas Blake, Jr., just a toddler, to wander in the woods for four days. He was rescued by a Richard Drummond who appealed to the court to apprentice the little fellow until he was 21. Richard later petitioned the court for control of the land left by Thomas, Sr., because the widow, Patience, was neglecting it also. Patience soon remarried, but not before she was hauled into court for partying on the Sabbath.
There was also a George Blake (wife Hannah) who lived on Chincoteague Island, where they tended the livestock owned by Capt. John Robins of Northampton County. I found no further information on these Blakes in Virginia. Whitelaw contended that George was the father of John Blake who inherited 100 acres on Chincoteague Island but I disagree. Pages 78 and 79 of the Wills and Admins. Of Accomack County, Va., 1663-1800 and an Accomack County court record dated 3 July 1728 indicate otherwise. This John Blake was the son of Charles Blake (alias Price) who was the adopted son of John Blake (Sr.) John Blake (Sr.) was the second son of William Blake, Sr.
There were many Blakes in Maryland in several counties. George Blake of Chincoteague Island may have come from there. Remember that the boundary line between Maryland and Virginia was rather "fuzzy." A number of land patents for Maryland land were granted by the Colony of Virginia. Capt. John Robins of Northampton County, Va., mentioned George Blake and his wife Hannah as his "man and woman" who attended his cattle on Chincoteague. Capt. Robins left his land on Chincoteague to five of his sons. One of these sons was Thomas. In 1731, Mr. Thomas Robins, Sr., of Somerset Co., Md., mentioned the Blakes of Chincoteague in his will: George, Hannah, Samuell, Charles, Comfort and Sarah. It appears, to me at least, that these Blakes were the servants who worked for Capt. John Robins as well as for Thomas, his son.
Page accesses to date:
---
(wls)
---
Back to the Family Stories page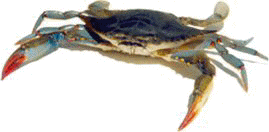 >>> Advertise Here <<<