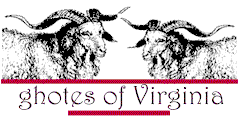 Accomack County Timeline
by Barry and M. K. Miles
---
The Accomack County timeline is a list of 113 Accomack records useful to the historian and genealogist. The records are in chronological order with a graph showing time spans and how they overlap. You can zero in on a year and the timeline will indicate which records are available for that year.
The timeline is available as a PDF file and as an Excel spreadsheet. You must have the free Adobe Acrobat Reader or a similar program in order to view the PDF file; you must have a spreadsheet program in order to view the Excel spreadsheet.
Either file may be downloaded here by right-clicking the file name below and selecting Save on the popup menu. If you have Acrobat Reader installed, you may also simply click the PDF file and see it online.
Page updated December 10, 2003 (wls)
---