Irene's Jambalaya

1 14oz can of peeled tomatoes (may use crushed )
2 1/2 cups chicken broth
2 celery stalks - chopped
1 Tblsp. veg. oil
3 slices bacon
1 med. onion - chopped
2 cups long grain rice, soak in cold water for at least 30 min. - drain
1 tsp. cayenne pepper
1 bay leaf
1 green bell pepper ( optional )
1 lb. cleaned, peeled and cooked shrimp
1 lb. boneless chicken, cut into bite sized pieces and cooked
1 lb. Italian Sausage, cut into bite sized pieces and cooked


Heat the oil in a large pan. Add the bacon and fry until crisp. Remove bacon from pan and save. Add the onions and green pepper to the pan and fry until tender. Stir in the celery, then the rice. Cook for about 3 minutes until the rice is coated with the pan drippings. Add the chicken broth to the pan with the cayenne pepper and the bay leaf. Reduce heat to low, cover, and simmer for 10 minutes. Add the tomatoes ( with the juice ) and continue to simmer covered, for another 5 minutes. Stir in the sausage, shrimp, chicken, and bacon. Cover the pan. Simmer for another 5 to 10 minutes until the meats are heated through and the rice is cooked. Serve immediately.

This goes very well with hot corn bread or corn muffins.
---
See more of Martha's recipes.

Page accesses to date:

mep@esva.net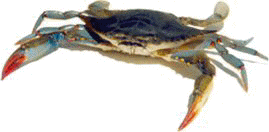 >>> Advertise Here <<<