Eastern Shore Crab Cakes

1 lb. crab meat
2/3 cup soft bread crumbs
1 egg, beaten
2 Tblsp. finely chopped onion
2 Tblsp. mayonnaise
1 Tblsp chopped parsley
salt
oil


Combine crab meat, bread crumbs, egg, onion, mayonnaise and parsley; mix well. For each crab cake spoon approximately 1/3 cup of crab meat mixture into 1/2 inch of hot oil - shape into patties pressing lightly with turner. Fry 3 to 5 minutes or until golden brown, turning once.
---
Page accesses to date:

mep@esva.net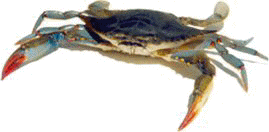 >>> Advertise Here <<<