Crab Au Gratin

1 lb. crabmeat
1/2 medium onion
1 stalk celery
1/4 cup butter
2 Tblsp. flour
1/2 cup milk
3/4 cup evaporated milk
1 egg
2 Tblsp. sherry
1/2 tsp. salt
1/8 tsp. pepper
1/4 tsp. red pepper
1/4 tsp. Old Bay seasoning
1/4 tsp. dill weed
1 cup grated cheese


Chop onion and celery; saute in butter until onion is limp. Add flour. Combine remaining ingredients, except crab and cheese. Add to vegetables. Stir and cook until thick. Remove from heat; stir in crab. Pour into an 8 inch square greased baking dish. Top with cheese and bake at 375 degrees for 15 to 20 minutes.
---
See more of Martha's recipes.

Page accesses to date:

mep@esva.net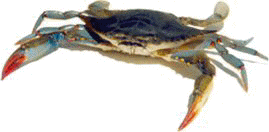 >>> Advertise Here <<<