Jaunita's Crab Imperial

1 lb. backfin crabmeat
2 Tblsp. butter or margarine
5 - 6 slices bread - crust removed and bread cubed
( stale bread works best )
1/2 cup milk
1 tsp. Old Bay Seafood Seasoning
1 Tblsp. minced onion
1Tblsp. minced green pepper
1 tsp. Worcestershire Sauce
1/2 cup mayonnaise


Melt butter in saucepan. Add onion and green pepper and cook over low heat until soft. Remove from heat. In another pan cook milk, bread, Old Bay Seafood Seasoning, Worcestershire Sauce over low heat until hot ( DO NOT BOIL). Add bread and stir until saucy looking. Remove from heat and add mayonnaise. Mix. Add butter mixture and mix with sauce mixture. Last, add crabmeat and toss lightly so as not to break up lumps. Bake in individual dishes or greased 1 quart casserole at 450 degrees until bubbly, 10 or 15 minutes. Dot top with butter before baking.
---
See more of Martha's recipes.

Page accesses to date:

mep@esva.net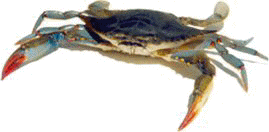 >>> Advertise Here <<<