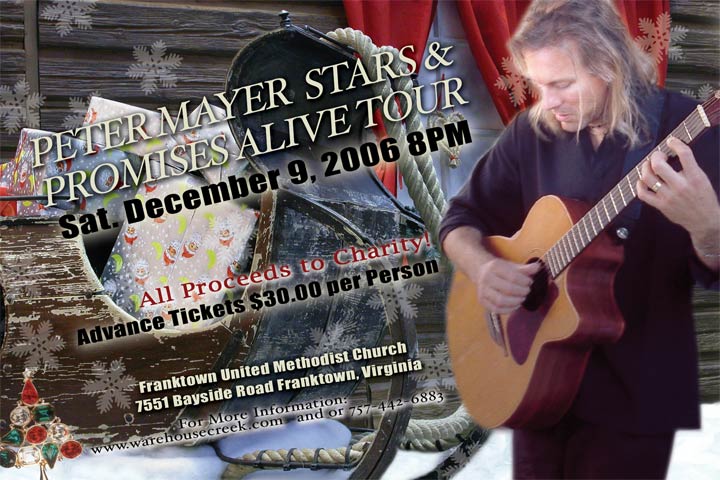 Peter Mayer
Stars and Promises Tour 06
Franktown United Methodist Church 12/9/06
The talented guitarist from Jimmy Buffett's Coral Reefer Band
brings his holiday musical presentation to the historic and
beautiful Franktown United Methodist Church Performance Hall.
Don't miss the wonderous sounds of this heartfelt performance on
December 9th. Get your tickets now !

Proceeds from concert are going to be donated to the
Southeastern Virginia Chapter of the Alzheimer's Association.
CLICK HERE FOR A SPECIAL GREETING FROM PETER !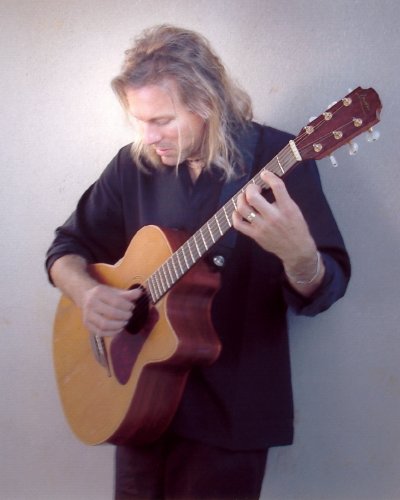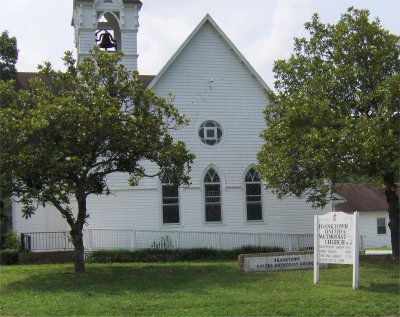 Visit
Peter Mayer
Online
BUY YOUR TICKETS HERE
TICKET OUTLETS COMING SOON
OR BY MAIL FOR $ 30.00 PLUS $ 1.00 S/H PER ORDER
mail check or money order to:
Warehouse Creek Recording
P.O. Box 102
Franktown Virginia 23354
***********************************************

Enjoy a Home Cooked Dinner at Franktown Church before The Peter Mayer Show
One seating 6PM Dec.9,2006 Menu will include Chicken dish, Veggie, Salad, Potato ,
Bread ,Dessert, Beverage $10.00 Advance Paid reservation. Call church for details 757-442-3481
SEATING IS LIMITED MAKE RESERVATIONS NOW!
CALL THE CHURCH ASAP 442-3481
Doors open for Peter Mayer Show at 7:30 PM
********************************************************

The Do Drop In Weirwod Va. presents:

Fri. Dec. 8, 2006
Land
Of
Pleasant Living Parrot Head Club
Meeting
Featuring The band

Scallywags *****

Open to public, all are welcome for a full night of entertainment. Cover charge.


Sat. Dec. 9 2006
After Peter Mayer show party! Featuring the band

Scallywags****




Open to public all are welcome! Cover charge Call 757-442-2139 for details


******************************************************************************************

"SCALLYWAGS"
In 1993 Robert "Captain Bob" Kernan and Marion "Mick" Stanley began a musical journey.
Introduced to each other by then drummer and friend, Jay Edwards, Mick joined Captain Bob and Jay's
"Back Alley Blues" band", performing on Baltimore's historic and legendary Fell's Point saloon circuit.
"Back Alley Blues" soon became "Hooz yer Daddy" and introduced their own hopped up,
self defined style - "bluesion". The fusion of traditional jazz and blues standards combined
with the band's rock-influenced stage presence, while spurned by some blues purists, became an
instant smash with audiences devouring it's formidable flash, funk, and danceability.
Recently, Captain Bob Kernan and Marion "Mick" Stanley have planted their axes
beside twenty-year shore drummer Scott Havens, formerly of "Storm Warning"
and "Fishband" to form a new group – "Scallywag".
BACK