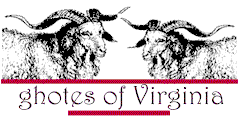 Family Bible Pages
---
Howson MAPP Family Bible Pages
Posted by Barbara Cox
October 23, 1999
---
HOWSON MAPP BIBLE
Family record pages from this old bible were kept in the bible of his son, George T. Mapp, Accomack Co., Va. Presently owned by Mrs. Charles Waters, Onley, Va 23418. Typed by Lila H. Schmidt in Feb. 1983. Re-typed from graphics file October 1999, Barbara Cox.
MARRIAGES:
Howson Mapp and Elizabeth Thomas were married February 16th, 1762.
Custis Willis and Bridget Mapp were married September 26th, 1790.
John Downing and Sally Mapp were married December 9th, 1790.
William E Mapp and Kate S. Ames were marr. Nov. 12th, 1762.
BIRTHS:
Howson Mapp Senr was born April 24th, 1733.
Elizabeth Mapp was born November 15th, 1740.
Bridget Mapp daughter of the above was born Nov. the 12th, 1762.
Sally Mapp daughter of the above was born May the 21st, 1765.
Easter Mapp daughter of the above was born July the 11th, 1768.
Howson Mapp Jun. son of the above Was born June 15th, 1770.
Littleton Mapp son of the above was born May the 25th, 1773.
Peggy Mapp daughter of the above was born March the its, 1777.
George T. Mapp son of the above was born April 3rd, 1779.
Robins H. Mapp son of the above was born March the 3rd, 1782.
John T. Mapp son of the above was born April 16th, 1784.
Ann Glen was born the 13th of January 17?1
Margaret Glen Daughter of Duncan Glen & Ann his wife was Bornd May the 31st A D 1798
Nancy Finny Fletcher Daughter of Wm Fletcher and Margaret his wife was Bornd April 21st AD 1811
James Edward Fletcher son of the above cople was bornd August 11th AD 1819
Saml S. Stott son of John S. Stott and Mary his wife was Bornd Sept 29th AD 1789 or 1790 & was married to Margaret Parker Sept. 11 1826 AD
DEATHS
Ann Glen Departed this Life May the 7th (AD) 1834
John E Mapp, son of Geo B Mapp, was born Feb. 1st 1840(6?) (Note: shown as listed, in Deaths section.)
Nancv F Lecatoe Wife of Littleton Lecatoe Departed this Life November 6th, 1834
Jas E Fletcher Departed this life April AD 1822
Samuel S. Stott Departed this Life January 8 AD 1832
Sally Downing wife of John Downing departed this life June 7th 1790
Howson Mapp Senr. departed this life December 23rd 1798.
Elizabeth Mapp wife of Howson Mapp Senr. departed this life January 16th 1803.
John T. Mapp son of Howson Mapp departed this life May 21st 1810.
Howson Mapp Jun. departed this life September 4th 1823
Littleton Mapp son of Howson Mapp Senr departed this life December 9th 1794
Bridget Willis wife of Custis Willis departed this life August 20th 1811.
Esther Downing wife of John Downing, departed this life October 26 1880
Peggy Davis the wife of Savage Davis departed this Life October 6 1842.
Thomas (Harrison?) departed this life January 11th l845
James Glen departed this life November 11th 1847
Savage Davis departed this life November 1 1834
George T. Mapp departed this life August 13 1862. aged 83 years 4 months and 10 days

Return to the top of this page
Return to the Original Materials Index
Return to the GHOTES home page
---
Page accesses to date:
---
---