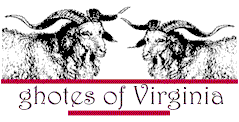 Indenture between
Joseph GOWTIE and Robert PITT
15 May 1755
Transcribed and posted by ghote Bob Gootee.
---
Indenture between Joseph Gowtie and Robert Pitt - 15 May 1755
This Indenture made this Fifteen Day of May Anno Domini One Thousand Seven hundred & Fifty five, Between Joseph Gowtie eldest Son & heir at Law of John Gowtie late of Accomack County Deceased, of the one part and Robert Pitt of the County aforesaid, Gent. of the other part.
Witnesseth that the said Joseph for & in consideration of Forty Pounds of Current Money to the said Joseph by the said Robert, paid before the Sealing & Delivery hereof the receipt whereof is hereby acknowledged. Hath given granted bargained & Sold and Doth hereby give grant bargain & Sell to the said Robert Pitt, his Heirs & assigns forever these Two Tracts & Parcels of Land hereafter mentioned & Described lately Descended unto him by the Death of his Father John Gowtie aforesaid dec'd. that this Forty Five acres of Land lying and being in Accomack County aforesaid heretofore Sold and Conveyed in fee to the said John Gowtie in his Life by Gilbert Morris by Indenture between the said Gilbert and the said John. Made on the Seventh Day of August Anno Domini One thousand Seven hundred & Thirty three and by the said Gilbert Duely acknowledged in Accomack County Court and Among the Records of the said Court the same Containing by Estimation forty five Acres of Land be the same more or less and is Bounded as in & by that indenture is mentioned and Described.
And also one other parcel of land in the Said County Containing by Estimation Twenty Acres of Land hertofore Sold and conveyed in fee to the said John in his life by Dennis Blake by Indenture of Bargain & Sale between the said Dennis & the said John made the thirtyeth Day of September Anno Dom: one thousand Seven hundred & Forty Six & Duely Proved and Recorded among the records of the General Court of this colony and is bounded as by that Indenture is mentioned & Described.
To have and to hold the said Two Several Tracts or Parcels of land so as above bounded with their & every Appurto: to the said Robert Pitt his Heirs and assigns forever To the only use of the said Robert Pitt his heirs & assigns for ever and no other use or uses whatsovever And the said Joseph for himself his Heirs Extors & Admins doth hereby Covenant with the said Robert Pitt his Heirs & assigns for ever that the said Joseph at & before Sealing & Delivery hereof is Seized of all & Singular the above Granted Premises with the Appurtts in good Pure indefensible Estate Inheritance in fee and that he hath good right & full power & authorizeed to grant bargain & Sell the Same & Every part thereof to the said Robert Pitt his Heirs & Assigns for ever in Manner & forn aforesaid.
In Testimony whereof the Parties aforesaid have to these Presents interchangeably affixed their hand & Seals the Day & Year first above written. Joseph Gowtie (LS) Sealed and Delivered in Presence of Benjamin Benston, James Benston, Isaac Milbourn. At a Court held for Accomack County May 27th 1755. The Within Indenture from Joseph Gowtie to Robert Pitt were proven by the Oaths of Benjamin Benston, James Benston & Isaac Milbourn. Witnesses thereto & admitted to record.
______ then (towit) The Day & Year within first written ___of Robt. Pitt ___ pounds Curr. Money of Virg. in full for the within lands as ____ Rec by me Joseph Gowtie. Witnesses:Benj. Benston, James Benston,Isaac Milbourn.
Truly Recorded signed ____ Holdon Cl.
---
Return to the top of this page
Return to the Original Source Materials page
Return to the GHOTES home page
---
Page accesses to date:
---
2004 (wls)
---