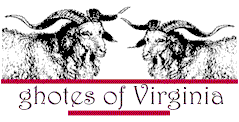 MISTER DEEDS
Transcribed by Gail M. Walcyzk
---
Accomack County Deeds 1757-1770 Part II:654:655
September 30, 1769
William Crowson, wife Bridget to William Mister
Transcribed by Gail M. Walczyk

This Indenture

made the XXXth day of September Anno Domini One Thousand Seven hundred and Sixty Nine Between William Crowson and Bridget his wife in the County of Accomack in the Colony of Virginia of the one part and William Mister of the same place of the other part Witnesseth that the said William Crowson and Bridget his wife for and in consideration of the sum of two hundred and ninety pounds current money of Virginia to them in hand paid or secured to be paid by the said William Mister before the execution hereof the receipt whereof is hereby acknowledged hath given granted and sold by these presents doth give grant bargain and sell unto the said William Mister his heirs and assigns forever a certain tract or parcel of land with the appurtenances lying on and near Chesconessex Creek in the said County of Accomack as is butted and bounded as followeth beginning at a stake in the marsh thence by a line of marked trees South 64 degrees East 67 chain to a corner stake thence by a line of marked trees south 46 degrees East 32 chain to Major John Wises land thence Southerly along the line to a corner oak then Westerly by a line dividing Major John Wises land to a pine on the head of Littlefield Creek thence along Chesconessex to the first beginning the same containing two hundred acres being the same more or less and is described by a deed bearing the date the XXIX day of November 1757 between Johannas and Joseph Wise and Smith Snead parties there to which deed is duely recorded in the records of Accomack County.

Note: the remainder of the deed is the legal terminology regarding the rights and privileges of The grantee and his heirs.

William Crowson

Bridget Crowson

Her mark

Signed Sealed and Delivered
in the presence of
John Wise
Peggy Wise
Edw. Shores
John Wise

AT a Court commencing and held for Accomack County November 2, 1769 William Crowson and Bridget his wife acknowledged the within indenture to be their act and deed to William Mister and commited to be recorded. the said Bridget first privately examined as the law directs and voluntarily committed thereof.
---
Return to the top of this page
Return to the Original Source Materials page
Return to the GHOTES home page
---
Page accesses to date:
---