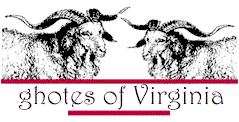 Eastern Shore of Virginia / Maryland Recipes
MARYLAND BISCUITS (beaten biscuit)
---
Recipe provided by Charles E. Warrington
MARYLAND BISCUITS (beaten biscuit)
2 1/2 pounds (white) flour
6 oz. lard
1 teaspoon salt
1 scant pint of water

Sift flour and salt

Knead in lard and add water gradually to form dough
Roll and knead dough on a powered surface, by hand, to obtain a dry exterior surface
Place on a hard stable surface and beat with a heavy mallet or axe head, about 30 minutes, or until the dough forms bubbles and crackles when beaten (A easier way is to run the dough through a meat grinder about two times for the same effect)
Pull a portion of the dough, about the size of a golf ball, from the mass and knead it into a round ball (To form the ball, place the dough in the palm of one hand and squeeze it as you rotate it with the fingers of the other hand. Break off the little tit, formed by your fingers in rotating the ball, and place that side down on a cookie sheet. Prick the top of each biscuit three times with the fork tongs. When the biscuits have all been formed, bake in a hot oven at 325 degrees for 30 minutes or until slightly brown on top.
Never, ever, put a knife to a baked Maryland biscuit. (You would be evicted from the state!) To open the biscuit place the biscuit on it's edge and pierce vertically with a table fork. A slight twist of the wrist, of the hand holding the fork, and the biscuit is open and ready for butter or jelly or a nice thick slice of country cured ham. Ask Dr. Bill?
Note: If you do not eat all of the biscuits at one setting, just before the next meal dump them into a vegetable bowl of water and let them float for about 5 seconds, turn them over for an equal time. Place them on a cookie sheet and reheat in a 350 degree oven for 10 minutes and you are back where you were at the previous meal. Enjoy!
---
Some additional comments on the Maryland Beaten Biscuits from the Ghotes line............
As I believe Chuck stated in his recipe for Maryland Beaten Biscuits, it is vital that each be pricked on top:
                                          . . .

                                          . . .

                                          . . .
Of course, these undoubtedly allow steam to escape, but I once read...somewhere... that this was an ancient symbol. Does anyone know about this?
Priscilla
---
Hi Priscilla,
You raise a good question about the pricking of biscuits. My grandmother Warrington told me, that she had been told, that the prick marks were for identification. Back in the days when the biscuits were made, in Jamestown and Williamsburg, just about everyone operated on a barter system. The prick marks varied with each fork or pricking tool, thereby identifying the baker.
Chuck
---
Do you have Eastern Shore of Virginia family recipes you would like to share with readers of this web site? If so, please e-mail them to Jack Burn jackburn@swva.net . Thanks
---
Return to the top of this page
Return to the Eastern Shore of Virginia Recipes Index page
Return to the GHOTES home page
---