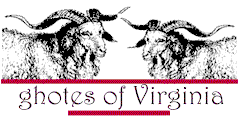 Carlos Jones: The Legend and the Truth
---
by Peter L. Walczyk
Copyright 1997 by Peter L. Walczyk
Carlos R. Jones was born near Heathsville in Northumberland County, VA in 1845. Located on the Western Shore of Virginia just south of the Potomac River, it was known as Northern Neck. Not much is known about his childhood except that he was the youngest one of the three sons born to Lindsey and Margaret Rogers Jones. His father was a farmer and his mother died
some time before 1847, the year in which his father, Lindsey, remarried. Sometime during the Civil War he arrived on Smith's Island MD, an island in the middle of the Chesapeake Bay where many deserters and escaped prisoners fled to. Although Smith's Island is in Maryland, the state line runs through it and many of the inhabitants, having relatives on both the Virginia mainland and the Eastern Shore, sympathized with the South. There he married Hester Ann Messick, had children and died in 1915.
During the next 135 years a legend evolved about Carlos and how he came to find Smith's Island. Carlos R. Jones was supposed to have escaped from Point Lookout, a Northern prison camp during the Civil War only 16 miles from Smith's Island. Tawes Jones of Crisfield, Carlos R. Jones' grandson, retells his grandfather's tale. "My grandmother Hester told me about it when I was a small boy," he said. "Grandpa had some kind of spell and fell out of line when they were out marching. Later, they thought he was dead. When he came to, he crawled down to the shore where he found a little canoe on the shore."
His brother Edward Jones of Ewell concurs. "It was an Indian canoe. He paddled from Point Lookout over to Smith's Island where the Fog's Point Lighthouse was, near Cager's Straights."
On July 20, 1863 a prisoner of war camp was proposed on the site of an old resort that the U. S. government had bought. It was to hold 10,000 prisoners. It was located on both the Chesapeake Bay and the Potomac River in Maryland, just over the state line and north of Northumberland Co. VA. A Union military hospital had already been built there. It was officially named
Camp Hoffman after Colonel William Hoffman the commissary general of prisoners but it was generally known as Point Lookout after the low lying sand spit in was located on. By August 31st of that year there were 1,827 prisoners there and by July 1864 there were 15,000. By the end of the war there were more that 20,000, twice as many as it was built to hold. The camp itself was about 20 acres surrounded by a twelve foot board fence. Inside the camp, fifteen feet from the fence was a ditch. Instead of wooden barracks, the men lived in tents which were hot and steamy in the summer and bitterly cold in the winter.
In a inspection report on November 13, 1863, the Associate Secretary of the U. S. Sanitary Commission noted the conditions of the prison. Although he describes prison life from a Union view, the horrendous conditions under which the prisoners lived can be seen. What clothes they had were filthy and falling apart, and three men shared one blanket. Although the food wasn't
too bad when it was available, consisting of hardtack and coffee for both breakfast and lunch and a meat ration for supper, the water was rancid and brown. Toilet facilities were hole dug just outside the tents and washing was unheard of. In the prison hospital the wounded and the sick were placed altogether and there was very little medication of any kind. All the diseases that
are common with over crowding and a lack of a clean environment thrived including diarrhea, scurvy, pneumonia, and smallpox. 25 percent of the prisoners died there. Some months the reported death rate exceeded 200 men.
There were some times when the prisoners were marched out side the compound. On Sundays they were taken out so that the guards could inspect the compound. In reality they stole what the prisoners had been sent from home. Groups of men were sent out on work details around the camp and on rare occasions they were allowed to bathe in the Chesapeake Bay. It was possible during one of these occasions that he could have passed out, been left for dead, came to and escaped.
On the north shore of the Potomac River, where the prison camp once stood, was erected a Federal Monument with twelve bronze plates to note the 3,384 prisoners who had died while imprisoned there. There among the dead listed is one C. D. Jones.
Carlos R. Jones, his older brother James and many other young men enlisted in the 40th Virginia Infantry, Company F on May 26, 1861 for one year's service. Included with them was Walter W. Marsh and his brother James, a neighbor of the Jones. The regiment was officially organized on May 30, 1861 and accepted into Confederate service on July 1. They were armed with either percussion or old flintlock muskets. During the six months before winter set in the 40th Virginia Infantry did not see much action except for a few skirmishers and for the most part time passed with nothing more interesting than drills and camp life.
During this time though, there were some problems among the officers of the regiment. They had openly charged that one Major Taliaferro was incapable of carrying out the duties of a Major and they were unwilling to go to the field with him. The officers wrote two letters to him asking for his resignation and they even wrote the Secretary of War pleading their case. No action was taken against Major Taliaferro but by the spring of 1862 he was their Major no more.
At the end of October 1861, the 40th crossed the Potomac River but on December 19th they received ordered to return to Northumberland. They arrived there on December 30th and were greeted by the shouts and cheers of their families and friends. They stayed in Northern Neck until mid March when they marched to Fredericksburg.
When it came time for re-enlistment in March 1862, most everyone gladly did so. But, by April discontent and turmoil arose within the 40th Virginia Infantry for a new conscription law came into effect. That meant that all the men who thought they had re-enlisted for another year or two of service were drafted to serve for the duration of the war. As a result of this law the first six months of 1862 show the heaviest period of desertion with 66 men AWOL. The latter half of that year showed slightly less with 43 men deserting. At that time deserters were counted differently than today. Men often came and went days or even months without their superiors knowing so deserters were counted as those who had left and never returned and these were counted as such by payroll musters, muster rolls, company returns or regimental returns.
It was late May when General Lee began his plans to leave Richmond and the 40th was called from their peaceful base at Fredericksburg to Richmond where the Confederate forces had started to fall back. What occurred next was a series of battles in which the 40th saw their first serious encounters with many casualties. As Lee fled with the Union following the action heated
up and the number of casualties rose. When the news of the battles arrived at Northern Neck, the families and friends started up to Richmond in search of the loved ones. "The hospitals were full of Confederate casualties, including the 156 wounded of the 40th Virginia Infantry."
Carlos R. Jones was 16 years old when he first enlisted in March of 1861, in the 40th Virginia Infantry, Company F, to fight for the Confederacy. His brother, James was 21. For July and August, September and October and November and December 1861 he was noted on the Company Muster Rolls as present with a note stating "Name appears in column rec'd. payment as
Carlos R. Jones." But on the Company Return for the month of December 1861 he was listed as "Without leave." It was at this time that the 40th was back on his home ground of Northern Neck. On an undated Bounty Pay and Receipt Roll issued sometime after March of 1862 it states "Carlos R. Jones for years bounty due $50.00 February 25, 1862." On a company Muster Roll dated March 2, 1863, he was paid to April 30, 1862 and it states "Deserted August 15, 1862."
His service record clearly shows what really happened. It is difficult to know exactly whether Carlos R. Jones deserted due to the lack of a good system of noting men who were absent without leave, but it is a fact that he went AWOL sometime between April 30, and August 15, 1862. His brother James was noted as deserted on August 31, 1862. Since families and friends had
traveled to Richmond after the battles outside of the city that occurred the end of May of that year, it is probable it was at this time that he deserted. The regiment had early troubles with its commanding officer and the new draft law coupled with the large amount of casualties at Richmond might have been the reasons. Camp Hoffman or "Point Lookout" as it was called was not even in the planning stages when Carlos left on his own at the age of 17. The C. D. Jones noted on the memorial was a soldier from North Carolina.
How, why or when he came to Smith's Island can only be speculation. It is possible that after the battles near Richmond he went home with the friends and relatives who had come looking for their dead and wounded and arrived on Smith's Island shortly after. Surely Carlos had a least heard about Smith's Island for it is only 18 miles by water from Reedsville VA in Northern Neck. Many of the inhabitants of Northern Neck had moved there and many of the island people had gone to live there. Walter W. Marsh, who had enlisted with him had many Marsh cousins living on the island. Smith's Island has a lot of little creeks and guts that he could have hid in if anyone had come looking for deserters and there were others with war stories who came to this island at about the same time.
Carlos was 17 in 1862. And there is no public record of him being there including that of his marriage to Hester Messick. The first record of him living on the island was on November 27, 1866 when their first child, Annie, was born. Carlos was 21 and Hester was 17. Taking the ages of Carlos and Hester into account, they were probably married in 1864 about 11/2 years after
he went AWOL.
Carlos R. Jones lived a very productive life on Smith's Island. He first tried farming but due the erosion of the land on the island he had to take to the water to feed his family. He then became a oyster man and eventually the Captain of the Maggie Dora, a two masted bug eye which was a smaller version of a schooner that could go into shallower water for oysters that dwell there.
He supported his family, raising 8 children, but not all to adulthood, and two orphan boys. He was a member of the Methodist Church at Ewell, MD and a upstanding citizen. In his later years he went blind. He died on March 27, 1915 at the age of 70.
On his tombstone is inscribed "To that land where there is no more stormy clouds to rise." He is still remembered on Smith's Island today.
No matter how significant or insignificant the contribution to history he makes, Carlos Jones is still a contributor. But both the life and the legend that surrounded Carlos Jones show how precarious life was for a young soldier during the Civil War, and how, no matter what difficulties there were, these difficulties play a part in a history, whether it's the history of the world or the history of a community. Deserters and draft dodgers are frowned upon today. It is not known what the general society thought of them in the 1860s and it is not understood what was on Carlos Jones' mind at the time. Today, only the barest facts can be found: He was a young boy of 16 when he enlisted and a young man of 17 when he deserted. He was old before his
time, hearing musket balls fly, seeing the dead, dying and wounded after battle and watching his fellow soldiers desert. Although Point Lookout had not been open at the time of his desertion, he surely understood the consequences of being captured. Who started the legend and why will never be known but the legend lives on today.
NOTE: This was originally a term paper done by my son Peter in the Fall of 1997. Carlos Jones' identity has always been somewhat of a mystery. Some have said that he was the C. D. Jones listed on the monument. Others have said he was really one John Black. To date more information has been found. Although the Carlos Jones of Northumberland County VA detailed
as above, he might not be the Carlos Jones of Smith's Island. The Northumberland County Death Records for 1853-1896 contain an entry in 1870 that states that a 4-year-old daughter of one Carlos and Elizabeth Jones had died there. The Carlos Jones of Smith's Island had arrived there before 1870 and married. There were either two Carloses or one of them is not really Carlos. More research remains to be done. Gail Walczyk

---
If you have information to add to this page, or if you would like to prepare an essay on this topic to be displayed here, please contact
---
Return to the top of this page
Return to the Eastern Shore History index page
Return to the GHOTES home page
---
Page accesses to date:
---
---