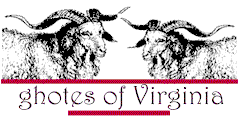 ---
An open letter to Barbara Cox
and all Ghotes from Anne B. Nock.
---
October 4, 1997
Mrs. Barbara Cox
San Clemente, CA 92672
Dear Barbara,
There once was a lady of note
Who lived in a region remote.
She worked ev'ry day--
With records passe
In search of some long-ago folk.
With Goffigon, yes, that she knew,
She searched, near and far, for a clue
Divulging her roots--
(This lady's astute)
No lead did she leave unpursued.
Alas, she would find on the Shore
Some records abundant, galore,
Pertaining to her--
Her line, main and spur.
The bug really bit her some more.
With friends that she'd made on the Net
(When all of their ears were still wet)
She gave them a name--
Which name now claims fame--
You never would guess it, I bet!
It sounds like an idiot joke.
But she wasn't kidding, she spoke:
The name we shall coin--
Is one that will join--
Our pleasure with records and poke!
She stenciled the name on her boat
As well as the checks that she wrote,
Created a page--

(An Internet rage)
Announcing a new clan of GHOTES!
As great as the Internet is,
(At surfing, she's really a whiz)
She summoned the Ghotes--
"Please, come and devote
Some time to this ancestor biz. . .
Where many of us started out.
We'll go on a trip. Here's the route."
And so, they arrived--
To read the archives--
With Burton to lead them about.
You stayed on the Shore for a week,
You visited towns by the creeks,
Heard lectures, a slew--
Got quite a true view--
Of what life is like, so to speak. . .
From scholarly folk, the highbrow,
Plus those of us who are lowbrow,
As tides ebb and flow--
We live this tableau--
Today, in the flesh, here and now.
I heard that the meeting was great,
You got all your ancestors straight,
And had a good time--
On site and online--
Which brings me, not sooner, but late;
To why I am writing this rhyme:
My thanks that the Ghotes did combine
Your shekels for us--
No hoop-la, no fuss--
To donate a system, online. . . .
With whistles and modem and bells
To stay on the Shore where we dwell
At Johnny Ker's home--
For real, not on loan--
To upgrade the H.S. pell-mell.
Sometimes, a limerick will never end--it has trouble coming around to the point. To spare you any more rhyme, allow me to thank you, one and all, for donating the fine new computer to the E. S. Historical Society. As a bottom-rung H. S. library worker, I speak for our group in knowing how beneficial this new technology will be to us in our work.
Sincerely,
Anne B. Nock
afnock@esva.net
---
Return to the Short Essays page
Return to the GHOTES home page
---