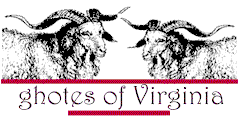 SUMMER ON THE EASTERN SHORE
The Mid 1950's
A short story by Jeri Honeycutt Aaron
Summer Vacation! It's mid-June, and our family begins its annual summer trek to the Eastern Shore of Virginia. Two-thirty in the morning, and we're on our way to grandma and papa's! As our 1950 beige Ford leaves Durham, North Carolina, I yawn a few times but soon realize I'm not going to go back to sleep.
As always, mama has made pallets for each of us, and we take turns either on the backseat or the floorboard. She really piles on the quilts for the floorboard pallet - you know, you never do get comfortable with that old hump in the middle. The floorboard pallet is the primo place, but for the life of me, I don't know why. I'm on the floor for the first half of the trip, which means every few minutes I scramble up and look out the window. The sky is a deep blue with twinkling stars scattered for as far as you can see. I strain my eyes trying to figure out where we are. Excitement fairly hums in the air - none of us can seem to get calmed down! My little sister, Donnie (her real name is Diann), keeps asking if we are at grandma's yet. We ride and ride, maybe sleep a bit. For the most part, we're popping up and down!
Daddy and mama think it's time for a coffee break, so we all pile out of the car when we get to Murfreesboro, NC. We cannot make this trip without stopping at the Red Apple for something to eat. Dawn streaks the sky as we get back into the car and head for the Virginia State line.
Once we get to Little Creek the excitement revs up a notch. This is where we catch a ferry to cross the bay. If we are really lucky, we won't have to wait too long in line. The time we drove right up and boarded the ferry crosses my mind. I also remember the many times it felt like we waited half the day! During holidays there are lines and lines of cars that seem to go on forever. Hope we don't have to wait six hours like we did one Fourth of July weekend. We try to remember all the names of the ferries - there's the Old Point Comfort, DelMarVa, Virginia Beach, Pocahontas, Accomack, Northhampton, Kiptopeke, and Princess Anne. I'm always excited to see which one we get. OK, it looks like we're gonna ride the DelMarVA this time. Uh-Oh! Diann's disappointed - she really wanted to ride on the Pocahontas. Mama says she thinks we might ride that one on the trip back home. The cars create metallic humming sounds as each one drives onto the ferry. Each car and truck is parked bumper to bumper. I'm amazed that my daddy can do that so easily. The ferry workers scurry around securing the tires of big trucks. The sound in the bottom of the ferry is hollow and clanky - it echoes. As we leave our car, one of the ferry workers introduces himself - he's from Chincoteague. He hands us a tiny book full of bible verses. We walk up the metal steps amid much foot stomping from Diann and me (that's so we can hear the echoes) and enter the lounge. The engine vibrates and makes a steady humming noise as we get underway. Once the four of us get settled, daddy takes us out onto the deck for a little bit - I go with him and peer over the side, but I'm scared to death! Finally we go back inside and watch through the windows. Sometimes we see dolphins and always millions and millions of seagulls following along in the wake. While on the ferry, we buy comic books and Necco candy - rolls of flat wafers about the size of a quarter. I love the chocolate ones! Mama and daddy drink coffee in the snack area. Donnie and I have cokes and pretzels and read our comics while mama talks about friends that she wants to visit in the next few days. I'm fascinated with the heavy, white china sugar bowl decorated with bands of green. It has a top that folds back halfway so that you can stick a spoon in. Opps - it's a little rough this trip, and coffee cups begin to clatter and bounce across the table. Watch out! Our trip across the bay lasts little more than an hour. We dock, wait our turn and finally drive off the ferry.
Now we head into Cheriton - we've almost reached our destination! Sometimes we stop at Paul's Restaurant so that mama can run in and visit with her aunt, Elizabeth Barnes. She has worked at the restaurant since the late 1930's. Boy, I'm almost beside myself - my papa is just about the greatest man I know, and in an hour or so, he'll be all mine again. As we continue our drive up Highway 13, I look for the towns with such odd, yet familiar, names - Exmore, Birdsnest, Painter, Keller, and Melfa. It's just about 8 o'clock in the morning and we're coming into Onley. There's the church on the right side of the road; when I see that white spire and those windows, I know I'm almost there! It's just a few more miles now! Finally, we arrive in Onancock, just by the airport. We drive on down to the forks and turn back on the other side of the airport. There's grandma and papa's big two-story house with the long front yard. Yep - my swing is still hanging from that old tree!
As the car starts up the drive, both my grandparents come out to the front porch. We jump out of the car and race forward - mama, Diann, and me tripping all over each other. I glance up and there's my papa! He calls me Jeri Buck. Grandma wants to cook us something to eat, so we start clamoring for scrapple. She proudly shows off her new Tappan stove and cooks fried eggs and the coveted scrapple - we can't get it in North Carolina so it's always a real treat. Papa sometimes puts slices of cheese in his coffee and after it melts, he eats the cheese with a spoon. When I am allowed to drink coffee, I think I'll try that! After we eat, I usually lay on the daybed in the kitchen and rest. I just love Grandma's kitchen with the green ivy sprigs splashed across the wallpaper. Peet the parakeet sure is making a fuss! Papa's a waterman - he doesn't usually have too much to say when we first arrive, but I know that he is glad to see all of us. He calls my mama, "Frank". Donnie and I both give our comic books to papa - he loves to read them! Half the fun of buying them is trying to figure out which ones he will like best.
We only have five days to laze around and enjoy ourselves - we've got lots of things to do and places to go. Diann and I hop in the truck with papa and drive down Market Street to Mr. Brice Davis' little grocery store. Mr. Brice and several other men can usually be found sitting outside in front of the store during the summer. Papa buys sharp cheese from Mr. Brice - it comes wrapped in butcher paper and tied with string.
But the place I love the most is Mears' Wharf (Poplar Cove). We turn from Market Street onto North Street and go past the fire station. We pass the house where Ringtail Evans has his barbershop. I'll never forget the time he cut my daddy's hair. According to daddy, he wasn't doing it right, so daddy hopped out of the chair and left with only one side cut! Daddy was so mad - and donít you know, he forgot his glasses and had to go back and get them! Across the road is Billy's yard - he's a billygoat that has lived here, it seems, forever. On down the road is an old weathered wooden store with a sign that says "Eddie ------ Proprietor". I think the badly faded name is "Cobbs", but I'm not sure. Proprietor - the first time I ever heard that word was at this very corner. I love the sound of it, and it sticks with me! This is where we turn onto the road leading past the South Chessaconessex turnoff and on to Mears' Wharf. We bounce on down the road past an old abandoned church. If we go to Mears' Wharf at night, papa sometimes comments that one night he is going to stop and go into that old church. It has vines growing all over it, and the door is missing. He says it is supposed to be haunted. At night I don't even dare look at it! But then the whole area is very dark and spooky to me at night - I can feel the tension build inside me as we near the church. I keep my head turned, straining my neck, until we are past. Then I sigh and think we've made it again!
We arrive at Mears' Wharf - I look around for reassurance that everything is in its place - that nothing has changed. There's Mr. Harvey Mears' house on the right and his tiny little office between the house and Miss Mary and Mr. Ed Hurst's store. Mr. Harvey Mears owns a barrel company in Onancock and has an office in town now. I still love to peep in the old office windows. There's still a desk in there with papers on it. I sure wish we could use it as a playhouse. There is a very low fence made from iron pipes running between the house and the store. Sometimes I play on that fence - do flips over and over. Kitty and Duck Grey live in the house now. Mr. Harvey is Kitty's daddy. Her daughter comes out sometimes and plays with me.
I love Miss Mary's store. It's a big old square thing - wind scoured white paint and weathered looking - it's becoming silvered. Miss Mary and Mr. Ed live upstairs. As we open the screen door to go inside, papa stops to speak to Tom Thumb. Just as soon as we get inside, Miss Mary or Mr. Ed immediately offer us a free Brownie - they do this each time we come for a visit to the Eastern Shore! I get my Brownie out of the drink box and go over to the bottle opener that is nailed onto a pole with a wooden box under it to catch bottle caps. We sit on benches and listen to the men talk. Once in a blue moon we manage to go behind the counters; thatís a real adventure! They have just gotten a television, and at night they turn it on. Once in awhile I take the bottle caps out of the box and line them up on a bench. It's fun to see all the different colored caps. There are two glass counters with merchandise in them. Oh Lordy! Diann has just cracked the counter top, and she's crying. Papa tells Miss Mary to order another one, and he'll pay for it. Once I heard mama say Diann is like a worm in hot ashes! I guess it's time for us to head on out.
The crab house is just down the way - we stop and take a look inside. Dark and cool - bushel baskets filled with Blue crabs. There are shallow bins with ice and wet straw running along the walls to hold some of the crabs. Sometimes it's real busy and crowded when they pick crabmeat. You can either buy crabmeat or crabs. Sometimes there's two or three big fancy cars pulled up - probably somebody from New York or Baltimore come to buy crabs as they're passing through!
I dart out of the crab house, shading my eyes against the brightness of the day. Diann runs out with a crab in her hand and begins to chase me onto the docks. My papa tells her to stop running because he knows I'm afraid of the water. The dock reminds me of an old weathered wooden fence that's been pushed over onto its side. It meanders around like a wooden path over the water. I go from boat to boat to see if I know anybody. There is my friend Tommy, Tom Thumb's son. I'm glad to see him again. I spent all of last summer with grandma and papa, and almost every time I was at Mears' Wharf, I saw Tommy. During the summer, he crabs with his father. Tommy always has a few minutes to talk to me, and of course, he teases me a lot too.
It's time to head on back to the house because we are going to Uncle Edgar and Aunt Mil's house for supper. I thank my lucky stars it is still daylight and I don't have to worry about that old haunted church!
The Middleton's are really my great aunt and uncle. Mama spent a lot of her childhood with Aunt Mil and Uncle Edgar. Aunt Mil is a tall stout woman, and when we arrive, she smothers all of us with big hugs. She always wears an apron - I don't think I've ever seen her without it. She is the best cook, and we can't wait to see what she sets out on the table. I'll bet we find roast duck, boiled potatoes, green beans, corn bread, golden yellow sweet potatoes, yeast rolls and vanilla ice cream. She says hamburg instead of hamburger. There are always little glass coasters on the kitchen table for our drinking glasses. We don't use coasters at home, so I think they are really special. After supper we all go out to the sun porch to sit awhile. Aunt Mil comments on Gary and Roxie - they live just down the road. She talks about Bernie and Elva White and what she had for supper the last time they got together. Diann and I are anxious to get back to grandma and papa's house. Before we leave Aunt Mil asks if Diann and I will spend the night. I knew that was coming. Mama says we can come back tomorrow and stay the night. Heck! I like to visit with Aunt Mil and Uncle Edgar, but there are too many adventures with papa just waiting to happen! Heck again!
We're up bright and early! Papa has all ready left for work; he's taking a truckload of barrels filled with crabs to Crisfield. Daddy and mama have decided to visit Ralph and Sara Mears. Diann and I tag along. Later we drive down to the Onancock wharf at the end of Market Street; sometimes we drive over to Burton's Shore. Finally our drive takes us to Mears' Wharf. Just as we pull up, Uncle Olin spots us. His boat is named "Evelyn" after grandma. He gives us a bunch of crabs, and he promises to visit with us later in the evening. That won't do me much good, cause I'll be at Aunt Mil's house! At least I'll get to spend some time with my dog, Smutty Face. Uncle Edgar has always kept him for me.
We head back to grandmas and leave the crabs with her; then to Onley and Aunt Mil's house. After mama and daddy drive off, Diann and I go outside. I wish Aunt Mil had some little baby ducks. Usually the baby ducks are around in very early spring. They are kept in a tiny house that looks like a doghouse to me. There is a light in there to keep them warm. They are the sweetest little fuzzy things! We roam around Aunt Mil's yard, around to the front porch that is never used. We spend a good deal of time lounging around on the screened side porch. That's where Aunt Mil keeps her African violets. We both love the swing made from heavy canvas-like material. It has a long stick across the back with material threaded onto it so that if we lay on the swing we can roll out the back of it. It's one of my favorite things about Aunt Mil's house! After Uncle Edgar quits work for the day and comes to the house, he takes us for a walk around the farm. There's a mule corral and barn and several tiny sheds around the farm. We love to go to the corncrib and crank the corn shucker. Diann and I always run a few ears through it so that we can scatter the corn for the chickens. When we get back to the house, Aunt Mil has dinner ready. Umm!! - a big pan of yeast rolls - she knows they're our favorites. Every time Diann and I spend the night with Aunt Mil and Uncle Edgar, we argue about which bedroom we will sleep in. Diann always wants the blue bedroom, and this time I tell her somebody was killed in that room. After that pronouncement, Diann gets real quiet! Usually, we sleep upstairs in the room with the fluffy featherbed. If I spend the whole summer, this is always my room. There is a chair beside the bed that I use for my tiny possessions - a Big Chief tablet and pencil, pipe cleaners that I make into different shapes, and I usually keep a little box of pretzel sticks too.
We go to bed very early and get up at the crack of dawn because Uncle Edgar and Aunt Mil own a large farm and work during the daylight hours. Once breakfast is finished, Uncle Edgar goes to pick up his workers (I think they are migrant workers - we see long buildings, maybe around Melfa, where they live). We go to the vegetable garden with Aunt Mil and get beans, beets, and tomatoes. Back to the house where we snap the beans and Aunt Mil shows us how to cook them. She pickles the beets and also puts a big chicken in the pot for chicken salad. About ten o'clock in the morning we take a nap; Diann and I aren't used to getting up at 4:30 in the morning. Late afternoon arrives along with mama and daddy. Around 5:30 we eat dinner - chicken salad, pickled beets, green beans, sliced tomatoes, iced tea, and yeast rolls. Then its time to drive back to Onancock.
Day four and we're on our way to Silver Beach. We drive down Highway 13 and turn right at Exmore. When we arrive, I hold my breath and hope that daddy doesn't run the car off the cliff that overlooks the beach. Once again, he handles that old Ford just fine. We take the old weathered wooden steps down to the beach, spread our blankets, and dash into the surf. Daddy and mama go into the water and splash around with us. While we make sandcastles, daddy and mama lay on an old quilt and talk. Back up the wooden steps; it's time to find something to eat at a nearby snack stand. After more splashing in the water and lazing around we head back to grandma and papa's house. Diann and daddy are all ready turning brown as berries. I'm red and burning! We stop in Exmore and get something to rub on my sunburn - this is our routine each time we go to Silver Beach. But even with the stinging of my skin, I wouldn't forgo the beach outing for anything!
We're exhausted! Grandma tells all of us to rest for awhile and she will cook supper. Later papa and Uncle Olin arrive - we all sit around outside while they make a couple of crabpots. Papa asks if we want to go to Mears' Wharf to Miss Mary's store. Mama says not tonight; we have to get to bed early. We make plans to meet papa and Uncle Olin at Mears' Wharf tomorrow to go riding in Uncle Olin's boat.
Our last day of vacation and we've got to make the most of it. We go downtown so that grandma can do some shopping. She needs something from Carmine's Hardware Store, and we go by Mr. Brice's store for a few things. We also talk mama into a trip to Wise's Drugstore. We always have to get a fountain coke and sometimes ice cream that is served in little silver dishes.
After lunch we head to Mears' Wharf for an afternoon on the water. When we arrive, Uncle Olin hasn't docked yet, so papa helps us scramble into his skiff. I'm afraid of the water, so I always slink way down into the bottom of the little boat and hang on for dear life. Donnie is jumping around and having fun! She tries to get papa to let her use the paddle to push us along, but he tells her maybe later. We can see Uncle Olin's boat coming in now. He unloads his crabs and takes them to the crab house while papa poles along in the skiff until we come along-side Uncle Olin's boat. We scramble over the side and wait until everybody else gets on board; we head out for a ride. After almost an hour of skimming over the water, we head back and scoot along the shore for a bit before we dock. We decide we need to drop by to see Aunt Mil and Uncle Edgar again for a few minutes. Grandma says she believes she'll ride with us.
As we drive down the long dirt path to Aunt Mil's house, I notice the late afternoon sun glancing off the windows of her house. It gives the windows a golden glow! We sit on the sun porch and visit for an hour or so. When it's time to leave, Aunt Mil smothers us with more hugs and gives Diann and me five dollars while Uncle Edgar loads some sweet potatoes into the trunk of the car. We always take sweet potatoes home with us - daddy says they are the best. As we bounce out of the farmyard, we look back and wave one last time. I don't know it right now, but in years to come, I'll remember these visits and know they were some of the best of times!
After supper we go with papa to Mears' Wharf. All the people there tell us how much they're going to miss us. Diann and I bask in all the attention! My papa is well liked, so there are always a lot of men that talk with him. It's pitch black outside when we wind our way back towards Onancock - we've gotta go by that old church too!
When it's bedtime, I crawl into bed with papa for a few minutes and talk with him - just the two of us. I'm so lucky to have him - there is nobody around who is so wonderful (well, maybe my daddy).
It's time to go, but daddy waits patiently while mama, Diann, and I say our good-byes to grandma and papa. Sometimes papa wonders off without a real goodbye. Mama told us once he couldn't stand to see us leave.
We trace our path back down Highway 13. As I glance through the rear window, I think of all the fun I've had in the last five days and realize there is no place on earth I'd rather be. Mama and daddy manage to keep our minds off leaving, and soon we arrive at Kiptopeke to board the ferry and cross the Chesapeake. Our vacation is just about over, but it's been another wonderful adventure. I know in a few short months we'll be back for Christmas, but today that seems a lifetime away. As we drive off the ferry, I ask if I can spend all of next summer with papa and grandma. I smile to myself and give a contented sigh, for I've had the best of times! I spend most of the journey back home daydreaming and planning things for papa and me to do next summer.
I'm still a child nestled in the arms of a loving family and do not realize how quickly time will pass. All too soon those wonderful childhood summers will end, for I'll become a young adult and follow other paths. I don't know it now for I'm still in the sunshine days of childhood, but those simpler times spent with my grandparents, George and Evelyn Mears, will have a strong impact on me and remain in my heart forever.
Jeri Honeycutt Aaron
(Family: Mears, Barnes, Watson, East)
---
Return to the top of this page
Return to the Eastern Shore History index page
Return to the GHOTES home page
---
---