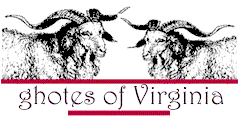 Ghotes Web Site
Privacy Statement
Updated Sunday, July 07, 2002
---
If you visit our site to read or download information, NO information about you is collected or stored.

If you sign our Guest Book or post a question in the Question book (Who Is), then the information you enter is saved on the Guest Book or the Who Is pages and is available to all visitors to the site. We do not compile or summarize any of the information you provide.

We do not collect or store any personal identifiers, and we do not compile any list of E-mail address unless you specifically request that your e-mail address be posted on the Web site in the Family Surnames section to share information with others visitors to the site. We do NOT sell, rent, or otherwise provide your personal information to anyone.
We want to be very clear
NO personally identifying information about you is obtained when you visit our site UNLESS YOU POST IT YOURSELF.
If you chouse to leave information in the Guest Book or Who Is PAGE, be aware that it becomes PUBLIC information and it is available to anyone who visits the site.
The Ghotes Web Site does not sell anything to anyone.
The Ghotes Web Site is a free service provided by many folks with a love of the Eastern Shore of Virginia.
Thank You
GHOTES Web Site
---

Return to the top of this page.
Return to the GHOTES home page
---
Page accesses to date:
---
---