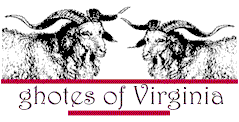 The Will of Giles COPES
July 23, 1696
Transcribed and posted by ghote Judy Jehn.


In the name of God, Amen. I Giles Copes of the County of Northampton in Virginia: A being sick and weake of body but of perfect soul and memory (praise be God for it) Doe make this my last will and testment.
I bequeath my soul into the hands of Almighty God who gives us forgivness for all my sins in and through the blood of Jesus Christ mine soul but my body I give to the Earth ------------- Christian Burial. And for my worldly estate I give as followeth.
I give and bequeath to my son Thomas Copes my plantation where I now live with two hundred acres of land belonging to it, but the said Thomas Copes paying to his brother Giles Copes four thousand pounds of tobacco #t.
But and if my son Thomas dislike of paying the said sum of four thousand pounds of tobacco that then the said two hundred acres of land to be equally divided between my said son Thomas Copes and Giles Copes, and so to remain for them and their heirs for ever.
But my will is that neither of my said sons Thomas or Giles shall not disturb my beloved wife Ruth Copes of the house and planted ground and orchard that now is Plus She the said Ruth Copes to enjoy the same during her widowhood. But my said sons may plant and build in the woods a distant from the plantation not disturbing their mother.
I give and bequeath to my Daughter Mary Cobb the wife of Samuel Cobb one small feather bed plus filling for one body to ly on with bolster and blanket: all the rest of my children I give twelve pounds a piece.
I give and bequeath to my beloved wife all the rest of my estate in ---------------- to her and to her disposing and I doe make my beloved wife Ruth Copes my sole executrix, Renouncing all other wills I made and ordained this my last will an testment . In wimes her out my hand and soul this 23th day of July 1696 Witt. Edmund Joyne, Margaret Walker, John Walker, Edward Joyne
---