UPDATE ARCHIVE:
LATEST UPDATES:
13 July '08
I never thought I would be counting 72 baby birds! Not just counting!!! But sorting and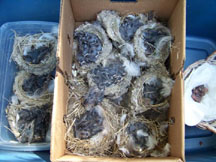 (OMG) FEEDING!!!!!!
These baby birds came into Shore Wildife as a call about having to remove barn swallow nests from The Eastern Shore Farmers Market. Hopefully ( and it has been promised) there will be steps taken to ensure the parents will not be able to build their nests there next year so the babies would have to be removed or destroyed. Eastern Shore Farmers Market did send a check to help with the feeding of so many orphaned baby birds. So far,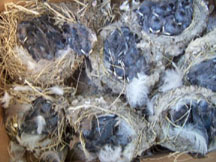 Pacific Tomato Growers (where the nests were) have not. The donation was sent on to all the rehabbers that volunteered to help in the raising and releasing of the baby birds which ranged from newborn to fledgling!!! I bought forty dollars worth of mealworms and crickets the first day and I can tell you they didn't go far!!! By the time the babies were sorted and starting to be fed, the phone was ringing with return calls from rehabbers who were offering to take some of them. Thank goodness, I guess they could hear the edge in my voice. The first box of birds being fed were already crying for more before I moved on to the next batch!!! I was very scared we were going to loose some but as far as I know, only two baby birds did not make it once they were rehomed. This was several weeks ago and most are still in the care of rehabbers - although a large portion are now in flight cages being readied for release!!!!! We would like to take this time to thank Wildlife Response for helping rehome about half the orphans., A whopping thank you to Susan Helstrum who generously took 32 !!!!

We also have some photos of our baby deer for this year, so far totalling 6. And this year we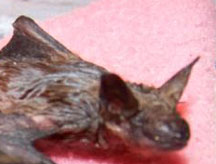 had baby bats - they taught me a great deal about raising baby bats. And I have to say, I am HOOKED!!! They are darling little folks!!! With loads of personality. And everyone says they are very cute, Yes, cute!! The first Batman looks more like a chocolate poodle every day - Honest!!!!!<G> They are being trained now to go after their mealworms on their own and working their wings getting ready for the flight cage. They beat their wings whenever they hear my voice!!!!!

13 July '08
Sometimes certain animals needing care or the person who called in about an animal make an impression Sometimes i'ts a member of your own family. Sometimes all of the above. A very upset and caring lady from Accomac called with a baby deer who was spending time in her drive that went through the woods before coming to their home. The baby deer, lots of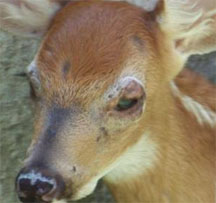 times, have a lot of swelling and infection especially around the eyes from ticks. The Shore is especially hard on woodlnd creatures because of the amount of ticks. Baby deer who eventually cannot see because of the amount of ticks and infected eyes is the number one reason we are called about injured or sick baby deer. My daughter happened to be visiting and she had volunteered to help get the baby deer in Accomac. She knows I am not the best at running any more. Age and weight have taken their toll!!<G> But Shannon very often wears shoes not very handy running after a baby anything!<G> We got there and he was in the drive as Jane had said. The three of us spent a good while trying to catch or corner the sad youngster who kept running into trees and even once into my car. His eyes were so badly infected and swollen closed! Shannon was determined after seeing his state that we were going to get this baby and the second time he ran into the woods she kicked of her heels and took after him barefoot - through the thorns, briars and branches!! Talk about a Mother being proud!!!! It took a while but we finally caught Festis. Daughter Shannon took the downing tackle!!! And after weeks of antibiotics and nursing he can see much better but as you can see the eyes still have not totally healed. He had many abscesses on his face and a few on the legs. But he is much improved and glad to be outside with the small heard. His name is Festis because this year we went down the alphabet in order sort of like hurricanes. We have Abby, Babe, Camille, Dylan, Elly Mae and Festis. (Shannon is a beautician at Shore Cuts if anyone needs a trim.) I am sure she has many tales of her crazy Mom and of herself growing up with critters. Ask her about the time the goose kept her pinned on the hood of the car, or when she was nine and held the chicken while I stitched up its back after a fox attack!!!! She is game, that child!! and my Grandson, Chase is just as great with the animals as anyone I have seen. He will hopefully be the vet one day!!!!! So thanks to Jane Rosemerta for her help and for making sure Festis was not going to be left!!! She called many times to check and visited him as well to be sure he was getting on!!!! Without people like her caring I would have a lot more work to do, and people like Shannon, who pulled thorns put of her feet and ticks out of her hair the whole ride home as she tried to comfort Festis.

Call us any time - we are always here for the wild ones!!!!

Bye for now,
Kathy

18 May '08
Busy, busy, busy. I promise to have some photos as soon as I find time !!!!!

The babies are starting to roll in now. Already we have two young fawns - both about 6 pounds when they came in, but have already gained several pounds.We had quite a few squirrels, but have all now been released and now have quite a few baby raccoons, bunnies and opossums.

Don't forget that there are a lot of young birds now fledging. Be sure they are not being taught to find food and fly by their parents before you rush to gather them up. If you need help deciding - don't hesitate to call and ask for advice before collecting the young bird!
20 April '08
Last week we had three beautiful baby otters comer in from some very caring folks in
northern Accomack county. Their eyes are still closed but have made the transition well. They are being rehabilitated in Va. Beach by a caring rehabber with another single baby who needed somes buddies! Unfortuntately, with so many to care for and so little resources on our side of the water, we could not keep our little otters. Cost to feed a baby otter to release age
has been estimated by an experienced otter replacement mom at $1000.00 for the amount of fish they eat and because they are not released until late fall or spring. We are in need of a large used freezer to store this much fish. Our one freezer is curently full of food for the raptors and other mammals we take in. We are also looking for a good source of fish that won't bankrupt us. I hope that by the time we get our next otter children, we will have the resources to keep them on our side of the Bay for rehabbing and more importantly for release!!! Hope some caring folks can lend a hand. THANKS. And a big 'thank you' for all you have done.

Several weeks ago we took in a baby great horned owl that had been blown from its nest. This was the first time we received such a small owl; only a few days old. No nest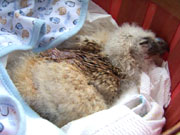 was seen or family members found. That's a shame because many times they can be replaced in the nest. Then Lisa got in her own baby G.H. Owl so we combined the two because it is better for them to be raised with siblings - they imprint on people very easily. Last week(you guessed it) another baby Owl about the same age as the first group. His wing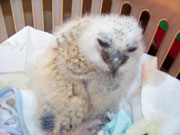 had been broken in his fall but he is doing great now and all three are growing so fast!!!!! They are in Va. Beach now - doing well. The only sad casualty is my food processor, the one I got for Christmas. It became the aid to processing frozen mice for the owls, once they were gutted and skinned. My husband, Jack is laughing, saying he never thought I would be skinning MICE!!!!!! So my Christmas food processor is now officially for the critters. My friends tell me they won't be buying anything food related at my yard sales!!!!! <G>

Call us any time - we are always here for the wild ones!!!!


Bye for now,
Kathy

20 February '08

It's time for the babies to start rolling in. I've had word that the first baby squirrels are already showing up in Va Beach! This means it's time to renew our stock of formulas for all the incoming. FoxValley on the internet is our source for formula for squirrels, bunnies, raccoons, opossums. Its not cheap!! Anyone wanting to contact Nick and donate some formula to help with the orphans can call us for the number. Last year we used over 150 pounds of formula just on the baby deer alone. We can always use paper towels, tissues, detergent, bleach! I do a load of laundry a day in the spring and summer for babies. Please see our new 'thank you' page!

Please think about giving to our wildlife any way you can. And as always, thanks to those who take the time to rescue a sick or orphaned wild animal and then call us. Remember it's not just the rescuing, but also to ensure the animal can be returned wild and able to fend for itself in the wild. You are doing harm if the animal grows up not knowing it is wild and how to live in the wild. And take care not to be bitten with those animals who can possibly be rabid.

Call us any time - we are always here for the wild ones!!!!


Bye for now,
Kathy

07 January '08

This bald eagle was found entangled with another bald eagle at the Boole farm in
Franktown. Game Warden Steve Garvis met me there after dark and the family showed us where the birds were entangled in briars in the woods beind their house. After searching only one eagle was found and brought back for a thorough going over. No serious injuries
were found and after consulting with Lisa Barlow who specializes in Predatory Birds, we decided we could try for a relese the next day.

Steve went back early morning to see if he could
find the other eagle but it evidently was not as exhausted as ours.... Who ate a breakfast before his release in the afternoon. We carried him back to the place of capture and with the helpers of the night before and a few extra called in, in case flight did not take place, our eagle soared gracefully across their field and landed in a very large old tree on the other side. After several cases this year where eagles where they were not able to be released or died in route to the special Wildlife Center of Va. who

specializes in Eagle care and rehabilitation, it was a great gift to watch this mature bird move on with all of us holding our breath.

What a great ending to 2007. Hope we can keep updates coming as those needing care for 2008 come into our care!!!!

HAPPY NEW YEAR(and sorry the pics weren't better but after all we are not photographers - my own photos missed entirely!!!!!<G>)


Bye for now,
Kathy